Golf Tournament – June 26, 2022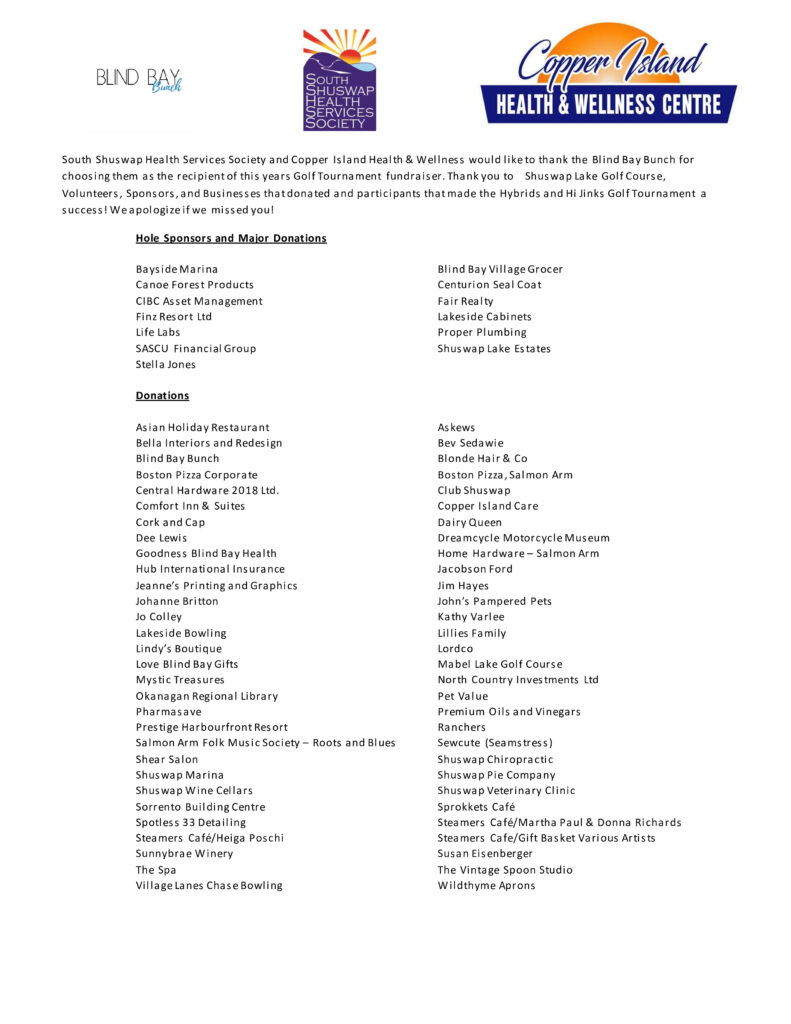 COPPER ISLAND HEALTH AND WELLNESS CENTRE NEEDS YOUR HELP!
( CIHWC)
Serving the communities of the South Shuswap, we are pleased to provide Mobile Lab Services, footcare, seniors' resources and options for helping to create and maintain healthy communities.
Life Labs sends out their technician and we have volunteers who help with reception.
The CIHW Centre itself is not funded by Interior Health but rather by donations, grants, fundraising and memberships. Our two main fundraisers were cancelled due to Covid 19.
HOW CAN YOU HELP?
BECOME A MEMBER!
We are looking for members to help cover the cost of operating the centre. Go to the membership tab on this website and fill out the membership form. Payment can be made using PayPal or you can fill out a form and mail it in. Our goal is to increase our membership by 1000.
VOLUNTEER! Your time and talents, at the Centre, on the Board, with fundraisers, administration and other areas.
USE OUR SERVICES
Lab
Footcare
Add your name to the list of those looking for a Dr.
Volunteers give of their time and resources because they believe in the vision of bringing health care here to the South Shuswap.
Call 250-675-3661 Email: cisrcbb@gmail.com
Join in the efforts to "Bring Health Care Closer to Home"
We thank those who have contributed to the Centre. It is your support that makes it possible to provide much needed services to our communities.